While writing this review of director Trvikram Srinivas's latest outing 'Aravinda Sametha Veera Raghava' (ASVR), I chanced upon his Wikipedia page. The introduction says, "
Regarded as the "wizard of words" Trivikram's craft is known for its high dose of comedy, fast-paced repartee, farcical situations, escapist themes, and comedy thriller plot lines involving action, emotion, courtship, family and marriage.
" Except for the farcical situations, he lets down his audiences on every other aspect.
Set against the backdrop of two warring villages in Rayalaseema, ASVR is the story of Veera Raghava Reddy (played by Junior NTR) spearheading his clans fight against Basi Reddy (played by Jagapathi Babu). They call this '
Aidu rupayala godava
' (5 rupees fight) and hand it over to their progeny, who find it easier to stick swords into each other than solve this dispute for once. But Veera Raghava Reddy, moved by his grandmother's (played by Supriya Pathak) rants, decides to take on his opponents with non-violence. Now, this is a novel idea, where unlike the usual mass entertainers, the male protagonist is not shown as the macho and masculine savior. A comical version of this theme was seen in S.S Rajamouli's
Marayada Ramanna
, where the protagonist does not fight against a bunch of goons.
Trivikram uses his trademark dialogues with rhyme and rhythm, to act as a weapon that Veera Raghava uses to win over his opponents, apart from the generous use of daggers and swords. To trigger his change and affect his conscience, a haughty, arrogant and bubbly Aravinda (played by Pooja Hegde) enters the scene. She casually drops her pearls of wisdom, which Veera Raghava picks up to pave his plan of action ahead. Again, instead of just being the arm-candy or add glamor, this role had a great potential. More recently, Anushka Sharma played a similar support and trigger to the male lead, as Mamta in '
Sui Dhaaga
'. But, again, the writing lets down the character of Aravinda. Despite being the titular role, Aravinda is reduced to just being a caricature, with no weight.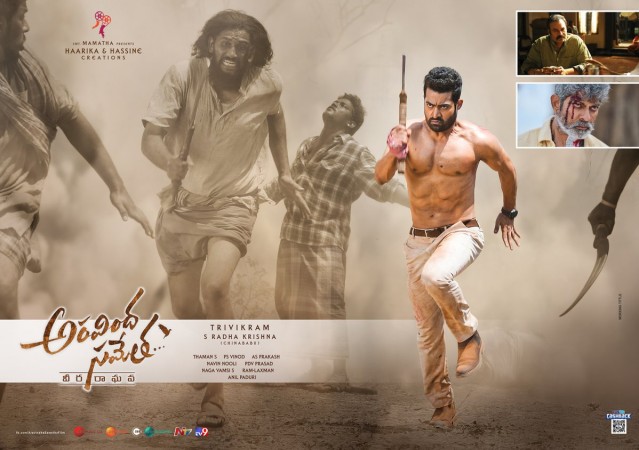 It would be a sin to look for logic in a mass entertainer and we Telugu audiences love them for the lack of it. But, Matala Mantrikudu Trivikram overburdens his audiences with heavy dialogues, filled with puns, alliteration and rhyme. There is a scene where the lead characters converse at a café and I cannot imagine any normal couple conversing in the language that they use. Like in his previous dud, Agnyathavasi, Trivikram overdoes the same trademark dialogues to the extent that it becomes a painful bore! The mood of the movie is set in a very gritty and serious space like Trivikram's blockbuster 'Athadu' or the more recent action drama 'Rangasthalam'. But, ASVR is not engaging or gripping like either of them. The lack of depth in the characters, along with the over-bearing dialogues, clubbed with a run time of 2 hours and 45 minutes, seem like an extremely tiresome experience.
The only saving grace here are the performances. Almost every actor cast in the main and supporting roles, gets the Rayalaseema accent on point. While most of the supporting actors are decent in their roles, a praise-worthy performance comes from Jagapathi Babu, as the main antagonist. Playing a rugged and rustic version of his character from Rangasthalam, Jagapathi Babu uses his menacing eyes and evil face to create a gruesome villain and delivers well. Pooja Hegde, apart from looking pretty and complimenting Junior NTR well, gets some cute moments amid choppy dialogue delivery. Sunil, making a comeback as the sidekick, is utterly wasted, as he neither gets to do comedy nor drama. But, it is Junior NTR, who plays Veera Raghava with such conviction, that you try to remain invested in this otherwise insipid tale. Being able to pull off a mass character with élan is no mean feat, and he is charismatic at that. Using a calm and restrained demeanor, reminiscent of Mahesh Babu from Athadu, his hard-work and efforts are clearly visible in his performance. Unfortunately, he is let down by poor writing, screenplay and dialogues.
From 'Nuvve Kavali' to as recently as 'A Aa', Trivikram has always been known for his brilliant dialogues, with some of the finest gems in movies like 'Nuvvu Naaku Nachavu', 'Manmadhudu' and 'Jalsa'. Watching ASVR reminded me of Srinu Vaitla's 'Aagadu' – another director known for his witty one-liners, who bored his audiences to death with an overdose of bland dialogues. Not sure if it is Trivikram's complacency or lack of vision, but ASVR looked like a tale from a tired and disinterested story-teller. Trust me, I seem as disinterested in writing this review as he seemed to be while making this movie.
My Rating – 2/5