Watching Vishal Bhardwaj's Patakha reminded me of Shyam Benegal's last two rural comedies, Welcome to Sajjanpur (2008) and Well Done, Abba! (2010). They are all great examples of real country folks forming endearing characters, weaved into a novel plot by their brilliant craftsmen, Benegal and Bhardwaj, and performed by a bunch of gifted actors. The similarities do not end here. These are movies which may not appeal to everybody's pallet, seem a bit overstretched and yet, let you come out of the theatre with a smile.
As it was evident from the trailer of the movie, Patakha is the story of two warring sisters, Champa (played by Radhika Madan) and Genda (played by Sanya Malhotra). Set in a quaint village in Rajasthan, these are two brash, wild and wicked sisters who run for each other's throats at the drop of the hat! While they steal each other's possessions, one also covers the other with a blanket on a cold night. Their belligerence always adds to their father's (played by Vijay Raaz) woes. Adding fuel to the fire or sometimes even creating the fire, is their friend, neighbor and a vagabond, Dipper (played by Sunil Grover), who plays a referee and an instigative Naarad Muni between the two. Eventually, the girls elope with their respective lovers, Jagan (played by Namit Das) and Vishnu (played by Abhishek Duhan), only to realize that their fates are still intertwined – their spouses are brothers! The rest of the story, as the narrator puts it, is about adjusting with your relatives because 'hum rishte chun sakte hai, rishtedaar nahi'.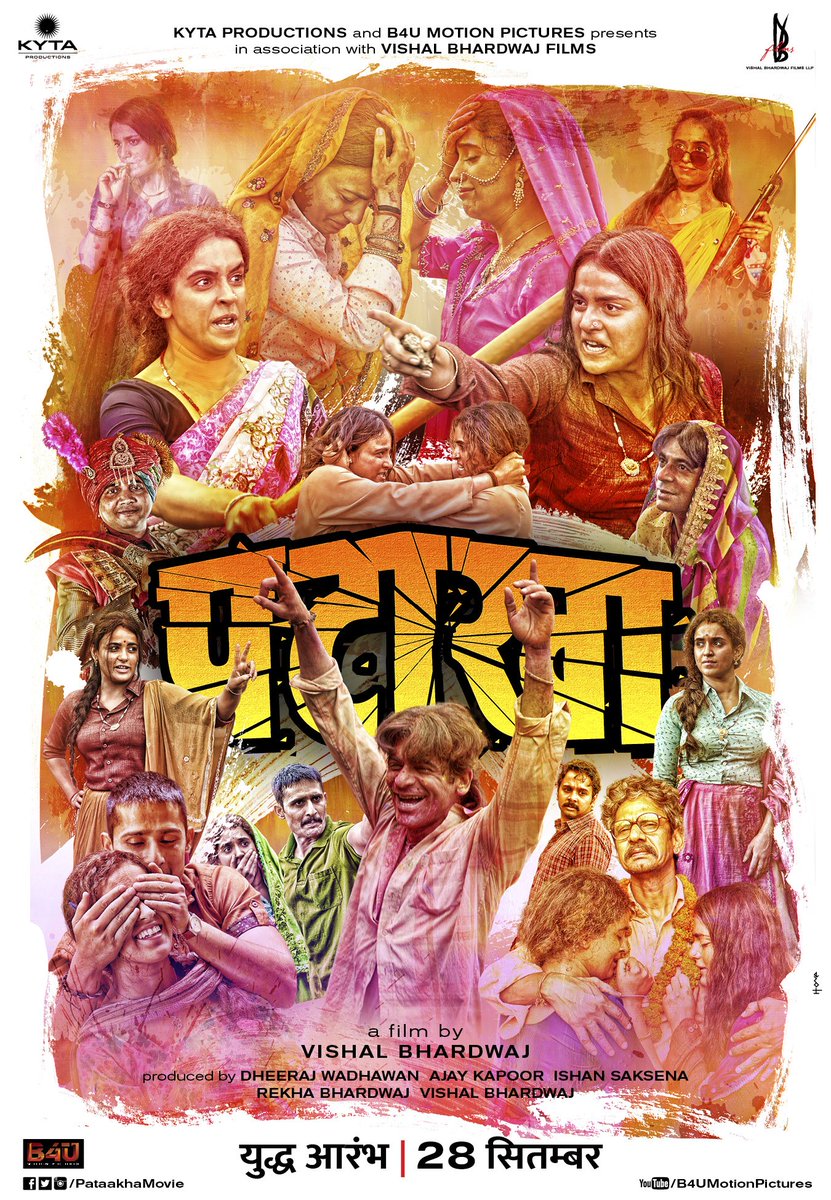 It is not easy to make a film on such a wafer-thin plot, which was summed up in the 2-minute long trailer of the movie. Kudos to Vishal Bhardwaj for writing the screen adaptation of writer Charan Singh Pathik's short story, 'Do Behnein'. He cleverly uses references to India, Pakistan and America as countries warring and clamoring for peace – a reference to the girls and other characters. Since his repertoire mostly includes screen adaptations of acclaimed books and stories, even here he creates a fun-filled world, but, it does not completely work. The second half seems dragged, also because you can predict the end that is coming. The narrative sees a few unnecessary subplots, created to lead to the climax, but could have been done away with or shortened. Also, the language is heavily influenced by Marwari/Rajasthani dialect and may be difficult for a large portion of the audience to comprehend. I had to keenly watch to understand the comical usage of English words such as 'Samraat phun' for smartphone and 'lub ju' for love you.
One of Vishal Bhardwaj's greatest prowess is his ability to get the best out of his actors. Every single performance in the movie is pitch-perfect. Vijay Raaz perfectly plays a positive character after a long time and draws your sympathy as the helpless father. Namit Das and Abhishek Duhan support their spouses well and perform well in their capacity. Sunil Grover, as Dipper whom you will love to hate, is a fantastic character who could have well become a caricature. He uses his comic timing to his advantage and creates quite a few laughs. But, it is the leads, Radhika Madan and Sanya Malhotra, who outshine everyone else. With author-backed roles and a gifted craftsman, Vishal Bhardwaj, they get to showcase their talent immensely. Radhika Madan makes her big screen debut and plays the part with honesty. Sanya Malhotra, after Dangal, delivers a lovely performance, as the quarrelsome younger sister. They both age from teenagers to middle-aged women and look, behave and perform their parts with complete conviction.
Unfortunately, only good performances, punctuated by good music, does not make it an interesting watch. I wish the length and the language were a little easier on the audiences. Also, you have already been cautioned - it may not appeal to all kinds of audiences. Watch it only if it does!
My Rating – 2.5/5