A young class X girl, Janaki AKA Jaanu (played by Gouri Kishan) brings chocolates on her birthday and offers it to her crush, Ramachandran AKA Ram (played by Aadithya Baaskar) who needs to be forcefully held in place by three fellow classmates, because he tends to shy away and faint on seeing Jaanu! It is moments like these - sweet, simple and yet, so poignant - that make writer-director, C Prem Kumar's debut release, 96, a simmering tale of everlasting love.
Twenty years later, we see a middle-aged renowned travel photographer, Ramachandran (played by Vijay Sethupathi), travelling all alone across the length and the breadth of the country. His nomadic life comes to an end, when he chances upon visiting his hometown, Thanjavur. The nostalgia on visiting his old school makes him reach out to his fellow classmates and meet them at a reunion. While he behaves like a grown-up man, his demeanor changes instantly when he sees his childhood sweetheart, Jaanu (played by Trisha Krishnan). The rest of the story is how these awkward exes meet and the conversations that they take forward, while switching the narrative between the present and their past.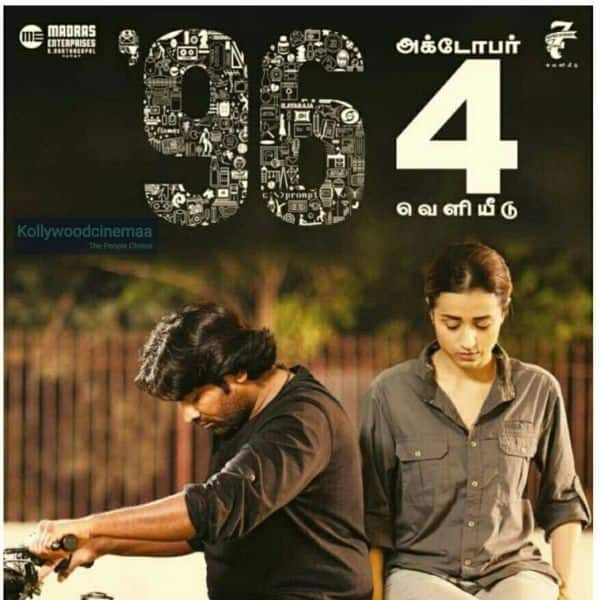 The plot is not something we have not seen or heard. From 'When Harry met Sally' to 'Hum Tum', we have had movies where two former lovers meet years later. But, the treatment here is extremely poignant and poetic. Director Prem Kumar uses long sequences without dialogues and perfectly uses his actors, their expressions and couples it with the brilliant camerawork by Shanmuga Sundaram. Add the melancholically beautiful background score by Govind Menon (from Thaikkudam bridge) and you have a canvas filled with love and prose! The narrative uses all the right elements that take you back in time – funny conversations that long-lost school friends have on Whatsapp, striking of letters in 'Flames' as schoolkids and classroom romances over exchange of notebooks. It is such endearing moments, which are in abundance, that make this movie a heartwarming tale to watch.
The movie leans heavily on its leads – Ramachandran and Janaki, played superbly by Vijay Sethupathi/Aadithya Baaskar and Trisha Krishnan/Gouri Kishan. While the supporting cast comprising of Devadarshini, Janagaraj among others are used in perfectly minimal amounts, it is the leads that keep you captivated even if only the two of them are on the screen for a long time. Playing the younger Ram and Jaanu, Aadithya Baaskar and Gouri Kishan display a strong command on their craft and portray school romances where only a glimpse of your beloved was enough. Aadithya, as an extremely awkward and shy boy, shows his commitment through his love filled eyes. Gouri, apart from looking beautiful, channels the right amounts of childlike innocence and a lady-like charm in her performance. Their scenes together, even without dialogues in some cases, show their palpable love for each other.
It is the grown-up leads, Vijay Sethupathi and Trisha Krishnan, who further enhance these characters. Vijay Sethupathi, as Ram, gets a nuanced character which could have gone wrong, if not dealt with restraint. His changeover from a bulky and strict photography teacher to a giant schoolkid is endearing and speaks of his histrionics. He displays staunch and unwavering love for a girl for 20 years without even meeting, and never lets his character become an obsessive stalker, like Dhanush's Kundan in Anand Rai's Raanjhana. He is madly in love, but respects the distance that has come in between the two. Complementing his heartbreaking performance is Trisha, in a stunningly understated performance. Without any traces of melodrama, she maintains the charm and wit that a 16-year old Jaanu had. Her melodious singing adds another dimension to the character. Her scenes with Vijay Sethupathi are adorable and equally melancholic. From teasing him over his good-boy image, to talking about virginity, they exude an old-world charm and the chemistry comes out beautifully. Two scenes stayed with me in particular – the one where Jaanu narrates an old tale to a bunch of Ram's students and the one where she sings a song at Ram's home. Vijay Sathupathi is the scene stealer in both of these, but they kindle a spark of warmth in the viewers hearts as well.
But, audiences beware – this is a hardcore love story, with glacial pace at certain places which sets the mood right. So, if pure romance simmered over slow pace and forlorn music is your cup of tea, then this is a must watch. Avoid it if it isn't! Thankfully, I fall in the former category.
My Rating – 4/5