Topics such as women embracing their sensuality and talking about their physical needs are considered too bold for mainstream cinema in India. Largely, such issues are not touched often or made with the central theme in a movie because a lot of questions arise. Is a woman who is aware of her sensual needs immoral? Is it only the vamps in the movies that are lecherous and lusty? Does the society draft a moral code of conduct for women and their physical needs? As a character says in the movie, can women from 'good families' not satiate their desires without being judged? National Award Winner S Manjunath AKA Mansore's latest Kannada drama, Nathicharami, propels its audiences to question the moral compass that the society has set for its women. (Spoilers ahead)
A young widow, Gowri Mahesh (played by Sruthi Hariharan), seeks psychiatric help to deal with her lonely life, three years after her beloved husband's death in an accident. Her life coach/psychiatrist (played by Balaji Manohar), modelled around Shah Rukh Khan's character from 'Dear Zindagi', casually asks her about her sex life after her husband's demise. She answers that she is loyal to her husband and will remain so. As the camera pans to a dog, a symbol of loyalty, her psychiatrist tells her that carnal desires are as normal as hunger. It is just a bodily need. But in a society, such as ours, can it be called just a need? The audiences are as conflicted as the brilliant Sruthi Hariharan is on-screen. As she puts it in her own words, her heart still belongs to her late husband for whom she brings in flowers every day, while her body desires love. In the times of Tinder and speed-dating, she tries to have a no-strings attached relationship, but, fails. For a woman who cannot stand a temporary fix to a leaking tap, a temporary satiation of her desires will not work either. This brings her back to her conflict – is she being immoral by thinking of becoming emotionally infidel to her husband? Through the stunning shots that linger on her without any dialogues, Sruthi conveys her angst, confusion and pain superbly.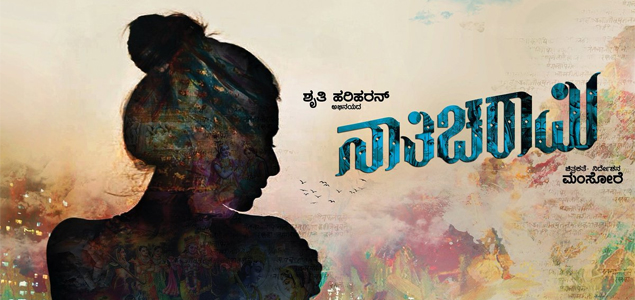 While there are no dearth of predators and people showing unsolicited interest, she stays away from all of them. One of the best scenes in the movie is when she calls out a colleague for behaving inappropriately at workplace. She sets the tone straight – she may be longing for a companion, but, she is not looking for a quick fix. Among all the prying eyes, she finds a friend in a civil engineer she bumps into during her morning walks, Suresh (played by Sanchari Vijay). Suresh, stuck in an unhappy marriage, dislikes his wife since she is from a small town. Suresh acts as a reflection of the society, that detests a woman voicing her urges, but the rules do not apply to the men who seek to douse the same urges from their wives. As a society, we have been conditioned to see women in a certain way, that Suresh's judgement of Gowri's morality seems legitimate. One also tends to question her motive behind being involved with a married man, by keeping his wife in the dark. Does this make her evil and a home-wrecker? The name of the movie seems to answer this - Dharmecha Arthecha Kamecha Naathicharami. It is a Hindu wedding vow where the couple promise to stand by their partner in Dharma, Artha and Kama. She keeps her vow to her late husband by staying emotionally loyal to him. Suresh keeps his vows by sobbing in his wife's arms, conveying his acceptance of his mistakes.
It is a slow, simmering and unsettling movie, because of its uncomfortable topic. It is very difficult to channel agony with ecstasy and Sruthi Hariharan delivers this in a spectacular performance. Her remorseful eyes and pale face convey her anguish louder than the happiness her vibrant clothes show. She succeeds in drawing the audiences towards her emotional turmoil, despite being a character that is very difficult to like, based on our morals and conditioning. Supporting her as a man cheating on his wife, albeit guilt-laden, Sanchari Vijay is effective being the man who has less control on his libido but sets boundaries for women. It is a poignant and painful movie, with a lot of things left unsaid yet beautifully conveyed.
The captivating final shots of Gowri getting rid of her husband's ash trays and cushions make us wonder if she has decided to move on? Only to be proven wrong, when in the next scene, she walks into her balcony, settles in a chair and lovingly moving her hand over the empty chair next to her. She has kept her promise – Nathicharami!