Anthologies and mixed stories in movies is something that has not really been explored in the Telugu Film Industry (TFI), barring a rare movie like Vedam. While we have had a range of such films such as Dus Kahaniyaan, Bombay Talkies, Dhobi Ghat and Shor in the City, it was long overdue in TFI.
Awe, as the name and the trailer suggests, is a quirky yet refreshingly radical change in the landscape of Telugu cinema. When I first saw the trailer, it did illicit interest in me for the sheer intriguing characters, who looked like misplaced pieces of a puzzle. With a crisp run time of less than 2 hours, Awe makes for an interesting watch with an intertwined story and a never-before-seen style of screenplay.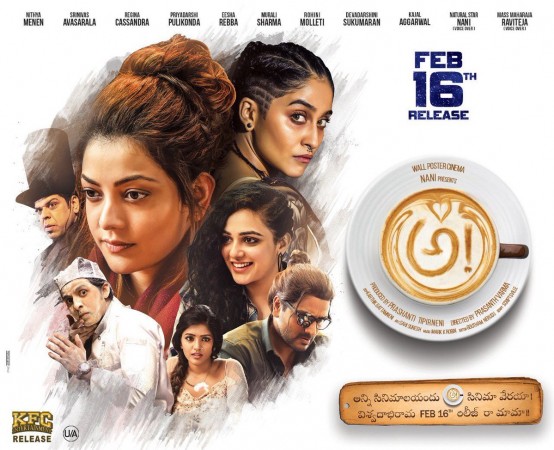 The movie is about characters as different as chalk-and-cheese; there is a drug-addict barista, a watchman who aims to be a scientist, a chef who cannot cook without Sanjeev Kapoor, a narcissist magician and a lesbian couple (A first in mainstream Telugu cinema!). The narrative is designed so beautifully that there is horror and comedy layered beautifully together. As each character unfolds itself, the mystery deepens to the level of being interpreted as too far-fetched. But the climax perfectly sums up and explains all the weird things, which normally can never happen in real life (like a fish and a bonsai which can talk).
Produced by the extremely talented Nani, the script-writers of Awe deserve the greatest applause. Sensitive issues such as child abuse, homosexuality and mental illness are handled subtly without ever making the situation serious or preachy.
Apart from the three heroes: script, screenplay and the direction, all the actors were good in their parts. Interestingly, in spite of so many characters, there is no single actor who stands out or overshadows the others. But, special mention to Nani and Ravi Teja, for being so delightful and hilarious, despite not being in the film!?
I would have rated it 3.5, but such a brave attempt in TFI deserves an additional 0.5.
My rating: 4/5