It's almost been 3 months since this movie released and I deeply regret watching it so late! Directed by the brilliant, Konkona Sensharma, 'A Death in the Gunj' is a fast-paced thriller which leaves you with an eerie feeling.
The story is based in a place called McCluskieganj in erstwhile Bihar (since this movie is based in 1978-79). A family arrives from Calcutta to their paternal home for vacations and they bring along their cousin, Shyamal AKA Shutu (played superbly by Vikrant Massey). During their stay over the New Year's holidays, we get to see the layers that lie beneath their relationships. A newly-married friend of the family, Vikram (Ranveer Shorey), who has a fling with a carefree, Mimi (Kalki Koechlin). An elderly couple (Om Puri and Tanuja) who love their nephew, Shutu, but offer him little emotional support. And all of them picking on a 23-yr old Shutu, for being shy and sensitive.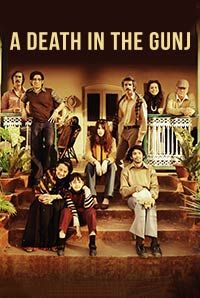 Shutu, in turn, has demons that he is fighting within – his father's death that he has not been able to come to terms with, a discorded relationship with his mother and most importantly – being constantly prodded to 'toughen up'! It is here where Konkona, the writer and the director, displays her impeccable craft as a film-maker. Using subtle nuances, she establishes the character of Shutu – shy, naïve, awkward among adults and trying to get over his father's demise. And Vikrant Massay shines in this role with a subdued, yet powerful performance. By the end of the one hour fifty minutes long film, your heart goes out to this poor boy, who only craves for some emotional support and understanding.
The film also tries to throw light on how the society expects a man to 'rise to the occasion', in the face of an untimely death in the family. Shutu is shown as a sensitive boy (who is called pretty and 'girl-like' by Mimi) who cries wearing his father's old sweater and yearns for compassion, which he finds in the form of his little niece, Tani. Through the film, one can see how indifferent people around him are to his pain and one can relate to the final step that he takes in the climax.
In her debut film itself, Konkona manages to get a perfect balance of all the major departments of film-making – cinematography, screenplay, dialgoues and background score – everything insync with the theme. Casting an ensemble of good actors make it a treat to watch. Even the domestic help, Maniya, looks authentic and performs ably well. But in the end, Vikrant Massay takes the cake. I would watch it again just for him and his menacing eyes thatd show his suffering.
Sadly, such gems often go unnoticed since we tend to brand such movies as 'Art cinema/parallel cinema'. But this movie is a gem not to be missed!
My Rating: 4/5.