In the early 2000s, during my growing up years in Hyderabad, I remember seeing buildings in the quaint lanes of the old city being scribed with the words, 'Oh Stree, Repu Raa' (Oh woman, Come tomorrow). Basing their plot on this hilariously ridiculous incident, Raj and DK, who gave us India's first Zombie comedy – Go Goa Gone, create an ill-woven yet entertaining story.
The movie is set in Chanderi in Madhya Pradesh, where every year during the 'Chaar Raato ki Puja', a notorious ghost is rumored to pick up men, leaving only their clothes behind. To keep this ghost, Stree, at bay, the folks in this small town adorn the walls of their homes with the words 'Oh Stree Kal Aana' (Oh Woman, Come tomorrow). A young 'ladies tailor', Vikky (played by Rajkummar Rao) meets a mysterious girl (played by Shraddha Kapoor) at the village fair and develops a liking towards her. Her steely gazes and unreal demeanor are overshadowed by her sensuous 'Vikky, please', which make Vikky be unsuspecting of her. But, when his friends Bittu (played by Aparshakti Khurana) and Jana (played by Abhishek Banerjee) get into the mess created by Stree, the movie takes a comical turn with Vikky turning into their savior.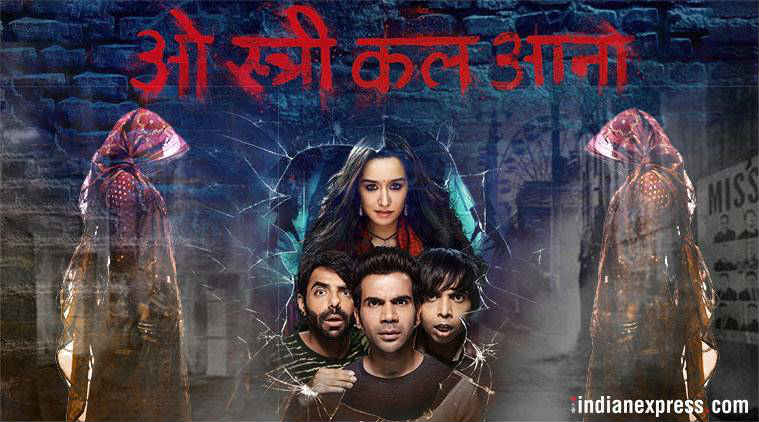 Raj & DK bestowed upon their assistant, Amar Kaushik, to make a horror comedy and he does not disappoint. As a director, he uses all the main actors to the best of their potential. The haunting and eerie background score by Ketan Sodha, sometimes gets a bit much, but provides the required chills and thrills. Complementing the scary background music is the brilliant comic timing of the all the actors, especially Rajkummar Rao, Aparshakti Khurana and Pankaj Tripathi. As the protagonist's best friends, Aparshakti Khurana and Abhishek Banerjee, are not reduced to mere sidekicks, but get enough room to display their histrionics and they deliver well. Pankaj Tripathi, with his straight face, has great comic timing and leaves you in splits. Shraddha Kapoor is decent but looks underwhelming in the presence of much better actors. And it is Rajkummar Rao who shoulders this film and does a great job at it! From the rustic accent, to quirky clothes to his on-point expressions – this man is a delight to watch! One of my favorite moments is his encounter with Stree, where he throws a volley of expressions at you, leaving you in splits! The climax is where their histrionics reach its crescendo and make you overlook the over-drawn sequence.
While the direction and the performances work well for the film, it is the story that lets you down a bit. Understandably, horror comedy is a genre which requires the right places to blend comedy into a dark eerie narrative. For the lack of better Hindi movie examples, I can probably compare two Telugu horror comedies - Anando Brahma and Rajugari Gadhi. While the former worked better for me for its clever and witty writing, the latter fell flat for its forceful blending of comedy into the narrative. I think this is where Raj & DK succeeded by blending comedy and horror seamlessly well. But, in the bargain, they leave a lot of loose ends in the sub-plots, which appear as glaring loopholes that cannot be easily ignored. They are indeed lucky that the acting chops and comic-timing of their actors does not let the audiences notice the loopholes much. And yes, all said and done, it is an enjoyable watch!
In the midst of scaring and making the audiences laugh, the movie also sends out a subtle message against misogyny without being the central theme. Despite its flaws and stretched second-half, it does makes for an entertaining watch!
My Rating – 3/5