If you are someone brought up in the 1990s like me, you would remember growing up on Telugu potboilers involving a haughty mother-in-law and a macho son-in-law. From Chiranjeevi's Attaki Yamudu Ammayi ki Mogudu to Nagarjuna's Gharana Bullodu or Allari Alludu, these movies were massy, no-brainers, yet, extremely entertaining and celebrated the stardom of its leads. Writer-director Maruthi uses this tried and tested template, only with a weak script and an underwhelming Naga Chaitanya!
'Ego' seems to be the catch-phrase of the writer here and characters in the movie utter this word every 20 seconds! Chaitanya (Naga Chaitanya) is the son of a renowned industrialist (Murali Sharma), who is as known for his business achievements as he is for his boundless arrogance and 'ego'. Chaitanya falls for a snooty and arrogant, Anu (Anu Emmanuel), who has her own little 'ego' battles with her overbearing mother, Shailaja Reddy (Ramya Krishna). The mother and daughter do not talk to each other and seem to be competing in their levels of arrogance. Predictably, the movie revolves around Chaitanya trying to resolve these silly and juvenile 'ego' issues, to get married to the girl he loves. If you think I have overused the word 'ego' here, compared to its occurence in this movie, I have barely even used the word! The laziness in the writing can also be seen in the names given to the lead characters – directly using the names of the lead actors.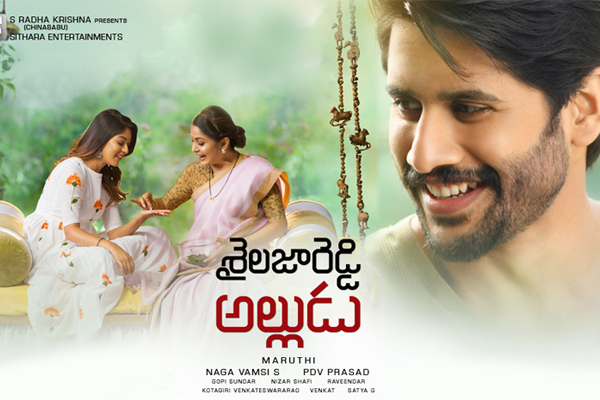 The weakest link here is the director-writer Maruthi himself. His insipid writing is further let-down by his weak direction. Mass entertainers do not usually rely on strong character arcs and I am completely fine with it, if the movie is able to convince me. Almost all the performances are one-tone and lack any depth. Ramya Krishna plays a Sivagami set in modern times, instead of Mahishmati. She uses her daunting eyes, aristocratic gait and a female 'Godfather' stature, making her performance captivating, even though it seems repetitive. Anu Emmanuel can barely act, and in most of the parts has a straight face (pretending to be arrogant) and occasionally breaks into a Monalisa-isque smile. The chemistry between the leads is very dull and even sensuous sequences seem icy cold between them! Among the rest of the cast, Vennela Kishore and Prudhvi Raj provide quite a few laughs and if you savor toilet humor, you are in for some good time.
But the most disappointing performance was of Naga Chaitanya. A movie like this relies majorly on its male lead, his flamboyance and his mass-appeal. Chaitanya lacks all of these. At the beginning, he appears to lack conviction and acting through the movie half-heartedly, where he does not have the charm and stardom that his father has. A movie like this requires a certain aura around its gutsy male lead, which is best seen in the likes of Jr NTR and Allu Arjun. I wish he takes a cue from the Nextgen, like Vijay Devarakonda and Nani, who seem to be choosing content-driven movies, over formulaic ones. At a time when his contemporaries are experimenting with content, it is disheartening to see Chaitanya pick such movies, probably burdened by the pressure to take the great Akkineni legacy forward.
With half a dozen forgettable songs and plot-twists at the drop of a hat, Shailaja Reddy Alludu is a disappointment! Watching our one-man-army fight against 'ego' for two and a half hours is not a pleasant experience. At one point, even Chaitanya asks, 'Asalu mee lanti Talli-Kuturlu Bhoo Prapancham lo untara?'. Trust me, the audiences were asking the same!
My Rating: 1.5/5