Horror comedies seem to be the flavor of the season. After the recent stupendous success of 'Stree' in Hindi, director Rahul Sankrityan brings us a Telugu comedy thriller, Taxiwala, starring Vijay Devarakonda in the lead. Just to jog your minds a bit, this genre has largely been successful in the Telugu Film Industry, though the movies have been rather sporadic. Most recently, notable movies in this genre were the Rajugari Gadhi series and Anando Brahma. Taxiwala, with a supernatural plot, falls in the same category, yet, is different in some ways.
Shiva (played by Vijay Devarakonda) moves to his uncle's (played by Madhunandan) garage in Hyderabad, to earn a living. After dabbling at odd jobs, he buys an old Contessa car to turn into an Ola driver. Dressed in leather jackets and ganjees that flaunt his toned body, Shiva starts earning while also making a pretty doctor, Anu (played by Priyanka Jawalkar) fall for him. His life with his uncle and his English movie fanatic help, Hollywood (played by Vishnu) is turned upside down, when he experiences paranormal occurrences in his car. This leads to series of thrills, chills and a whole lot of laughter!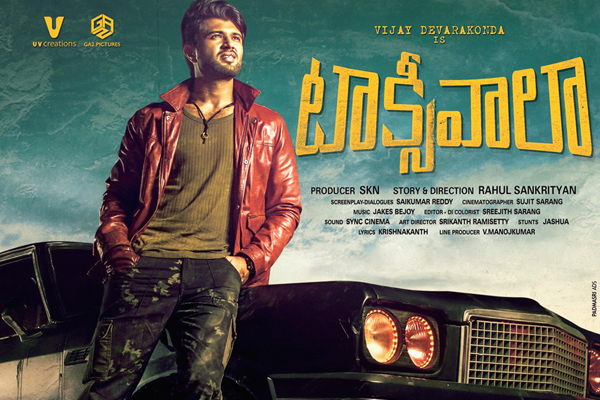 While I began discussing Taxiwala in the same light as
Anando Brahma
and
Rajugari Gadhi
, it is similar in genre yet different in treatment. The movie has a very real, plain and quirky treatment of camera (by Sujith Sarang) and sound – reminiscent of one of the first Telugu movies in this genre, the 2005 sleeper-hit,
Anukokunda Oka Roju
. Like
Anukokunda Oka Roju
, there are no cheap thrills or jarring background scores. Most of the thrills and laughs are induced organically, using the camera angles, lights and the performances. The movie is filled with little moments of laughter – band-aids on all their fingers for a hilariously stupid occult experiment, Shiva's naïve 'thanks' to the 'ghost' in his car for steering it while he fell asleep or Hollywood (the boy who works for them) fidgeting with a bottle in the middle of a serious scene in the Hospital. It is such moments that bring this movie alive.
The movie also reminded me of the 2004 Hindi-disaster, Tarzan: the wonder car, where a car turns rogue with Ajay Devgan's spirit trapped in it and seeks revenge. While the premise and the treatment are interesting, it is the execution where the movie slightly falters. The writing by Rahul Sankrityan takes time to set the base and the ride is pretty much fun after that. Well, almost. Until, there is a slight slump in the narrative in the second half, where the explanation of the paranormal activity takes centerstage. Even though it has a crisp run-time of a little over two hours, the second half seems a bit of drag, especially towards the climax, sprinkled generously with trademark Telugu masala.
Having said that, the movie is still an enjoyable ride thanks to the witty dialogues and superb performances. Vijay Devarakonda has already proven his mettle and he does not disappoint here either. While his swag, rugged look and clothes off a runway model seem a bit contrived for a cabbie, he uses his charm and wit to make the viewers overlook it. Another contrived sub-plot happens to be his love story with a doctor, which also seems highly unlikely in real life. Since this love plot is cleverly shown very little, it does not take away from the main premise. Vijay's comic timing and acting chops are further elevated by his Babai, played by Madhunandan and Hollywood, played by Vishnu. These are not mere sidekicks, but very well woven into the plot. The camaraderie between the three is fun to watch. One of the funniest moments is the sequence where the three stealthily break into someone's home. Like Laya in Amar Akbar Anthony, another actress makes a comeback this week – Kalyani. Along with another yesteryear actress, Yamuna, Kalyani gets an extended cameo and delivers whatever is expected of her. Malavika Nair is decent in her small part in the second half, when the supernatural part is explained.
While there are a few irregularities and hiccups in the second half, the movie manages to keep you entertained with its thrills and humor. If nothing else, Vijay Devarakonda's rugged charm is enough to stay invested till the end.
My Rating – 3/5